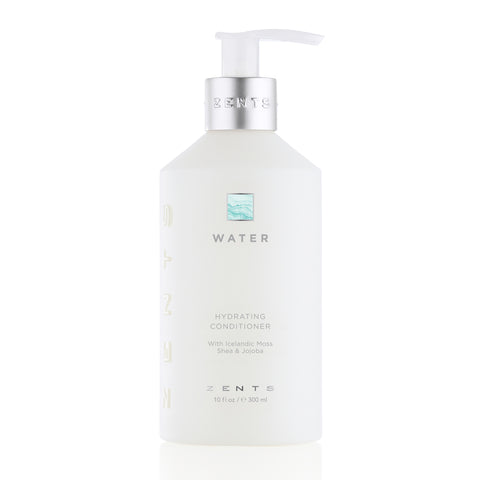 Zents Conditioner ~ Water
$ 39.00
Luxurious, color-safe WATER CONDITIONER nourishes all types of hair, delivering intensive moisture with 100% organic shea butter. Rich jojoba extract guards against sun damage and imparts manageability. Icelandic moss and Sunflower Oil fortify the hair and protect against breakage. WATER Conditioner leaves hair full, vibrant, and lustrous.            10 fl oz / 387 ml
INGREDIENTS:
ORGANIC SHEA BUTTER – Rich emollient that traps moisture, promotes elasticity, protects against sun damage, and fades age spots; sustainably and ethically hand-harvested from an African tree nut.
JOJOBA | Jojoba increases manageability, protects hair from the elements and adds brilliance.
SUNFLOWER OIL | Rich in Omega-6 fatty acids, sunflower softens, prevents water loss, and helps prevent breakage.
ICELANDIC MOSS | Vitamin-rich, full of essential nutrients, this aquatic plant supports thick, healthy locks.
VITAMIN B5 – Prevents graying, promotes hair growth, and thickens hair, giving it body and hold.
Zents Conditioner ~ Water
$ 39.00