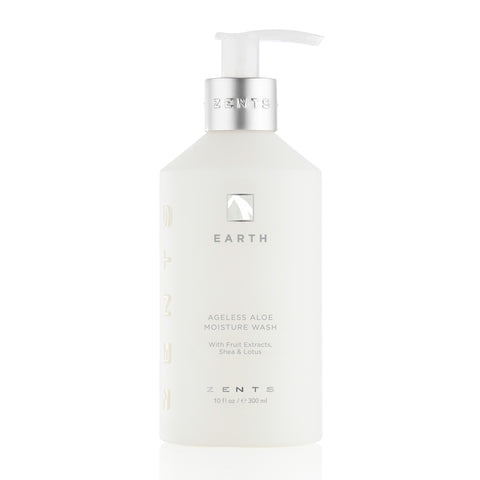 Zents Wash ~ Earth
$ 41.00
This luxe age defying Wash acts as a gentle facial for the hands and body. Sugar cane and fruit extracts gently exfoliate without harsh particles, as ultra-rich organic shea butter softens for youthful, immaculate skin. Perfect for sink, shower, shave, and bath.            10 fl oz / 300 ml

Earth; Strengthening and Clean
Inspired by the life affirming, grounding strength of the mountains, The EARTH Collection is a clean and calming blend, rooted in notes of sandalwood and fir needle. Top notes of bergamot and bay leaf give this gentle aroma the air of spring blooming in the forest.

SIGNATURE SCENTS INGREDIENTS: Aloe Barbadensis (Aloe Vera) Leaf Juice*, Sodium Lauroyl Sarcosinate, Coco Glucoside, Glycerin, Butyrospermum Parkii (Shea Butter), Panthenol (Vitamin B-5), Vaccinium myrtillus Fruit/Leaf Extract (and) Saccharum officinarum (Sugar Cane) Extract (and) Acer saccharum (Sugar Maple) Extract (and) Citrus aurantium dulcis (Orange) Fruit Extract (and) Citrus limon (Lemon) Extract, Fragrance, Alcohol (and) Nelumbo Nucifera Leaf Extract (and) Passiflora Incarnata Flower Extract (and) Ginkgo Biloba Leaf Extract (and) Cameillia Sinesis Leaf Extract (and) Cetraria Islandica Extract, Glyceryl Stearate SE, Hydroxypropyl Guar, Guar Hydroxypropyltrimonium Chloride, Sodium Benzoate, Potassium Sorbate, Citric Acid. Glycerin , Water, alcohol*, Lavandula Angustifolia (Lavender) Flower Extract**, Taraxacum Officinale (Dandelion) Flower Extract**, Prunella Vulgaris (Self-Heal) Flower Extract**, Calochortus Tolmiei (Star Tulip) Flower Extract**, Arctostaphylos Viscida (Manzanita) Flower Extract**, Achillea Millefolium (Yarrow) Flower Extract.** 
Zents Wash ~ Earth
$ 41.00