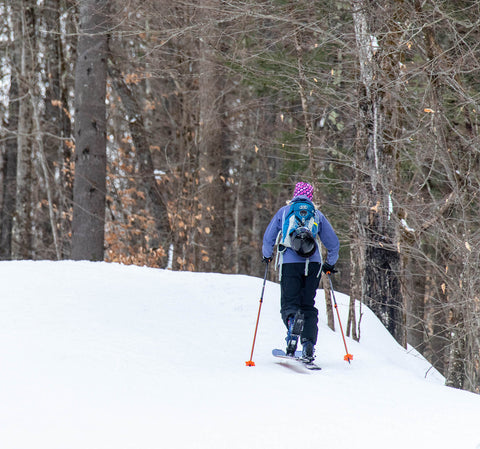 Uphill Travel Season Pass
$ 59.00
Winter uphill travel by means of skinning and snowshoeing is becoming increasingly popular and we welcome winter uphill travel enthusiasts! 2023-24 Season: All uphill travelers must purchase an Uphill Travel Season Pass! This $59 pass allows you access to our uphill travel routes and trails all season, (uphill access is included with the purchase of a Saskadena Six Season Pass). The proceeds of this pass are donated to our local Woodstock Ski Runners program to support the "learn-to" programs. 
With our 5-day operating week, uphill travel will be permitted on both operating and non-operating days, provided there is continued respectful and safe coexistence with our mountain ops teams. In order to help provide an enjoyable and orderly experience for both uphill and downhill guests on a 24/7 basis, all uphill travelers are required to follow resort rules, including the best practices.
Please note that season pass purchases are non-transferable, non-extendable and non-refundable. Season pass prices do not include 6% State Tax.